UK Malnutrition Awareness Week takes place from Monday 10 to Sunday 16 October 2022. The campaign aims to increase understanding of the dangers, risk factors and signs of malnutrition and dehydration.
Good nutrition is essential for vulnerable people receiving home care as it helps them recover more quickly from ill health or hospital stays as well as enhancing the quality of life of those with long-term conditions.
What is available nationally to support health professionals working with people who may be malnourished
NICE (National Institute for Clinical Excellence) has a quality standard on nutrition support for adults. It covers identifying and caring for adults who are malnourished or at risk of malnourishment, in hospital, home or care home settings.
NICE defines malnutrition as a state in which a deficiency of nutrients such as energy, protein, vitamins or minerals results in measurable adverse effects on body composition, function or clinical outcome. It recognises that malnutrition is an important patient safety issue that continues to be both under-detected and undertreated with potentially fatal consequences.
BAPEN is a charitable association that raises awareness of malnutrition and works to advance the nutritional care of patients and those at risk from malnutrition in the wider community. It is also the organisation behind the UK Malnutrition Awareness week.
BAPEN has a free, web-based self-screening tool which is designed to identify those living in the community at risk of malnutrition. The tool can be used by carers and other health professionals to identify the risk of someone they care for. It is based on weight status and history of weight loss, using the criteria already incorporated into the 'Malnutrition Universal Screening Tool' ('MUST'), the most widely used screening tool in the UK.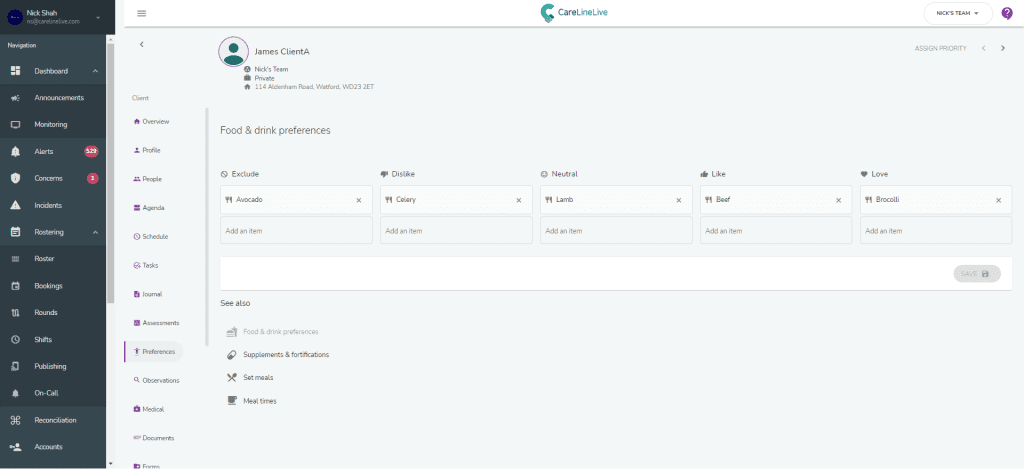 How can CareLineLive help with preventing and treating malnourishment?
CareLineLive includes a suite of home care assessment and monitoring templates to help care managers assess the physical and mental welfare requirements of their service users and enable their carers to provide optimum person-centred care.
The fluids and nutrition assessment allows assessors to collect information on the dietary needs of service users. This includes collecting key information on food and beverage likes and dislikes, preparation preferences, allergies and intolerances. Users can also collect information that is specific to positive nutritional outcomes, e.g. food fortification or the use of thickening agents which facilitates safe swallowing for some service users with conditions such as dysphasia.
The fluid and nutrition assessment can be uploaded into the service user's documents which are then visible to carers in the carer app. The assessment can also record information about food and drink preferences. Carers then use the app to record food and fluid intake in real time.
Overall, it's time to take a preventative approach to care to ensure that any problems are flagged before they arise. By using CareLineLive, carers, agencies, those receiving care and their families and friends, are all better connected and supported.