New Age Care, based in Warwickshire, was founded as a live-in and domiciliary care business in March 2021. Since then, it has grown rapidly to 50 members of staff working across the UK. Founder, Samantha Whittaker, puts the rate of growth down to their focus on looking after their carers and treating them well.
It was Samantha's experiences of caring for her parents through cancer that led her on the path to setting up a care agency at the suggestion of one of the Marie Curie nurses that was caring for her mother.
Samantha has since done her NVQ qualifications up to level 5. She is adamant that investing in training, including for staff who have recently joined, is essential for good recruitment and retention. She currently has 14 people on NCQ levels 2 to 5 and ensures that all team members are developed and offered career progression within the business. Working closely with local training company, Akash Training Agency, 10 New Age Care carers have recently undertaken Dysphasia training after one service user was diagnosed. Carers are currently being offered training in Retts Syndrome, again after a service user was diagnosed.
To mark the recent Professional Care Worker's Carer's week, all carers were given a thank you card, bought sweets and a gift voucher. Samantha's mantra is "You are only as good as your carers so you need to look after them." She is frustrated when others in the care profession struggle with recruitment whilst only paying their staff minimum wage (and often taking significant profits themselves). Starting salaries at New Age are at £13 an hour with increases following increased responsibility and training.
To mark World Alzheimer's Day, we spoke to Samantha about the challenges Alzheimer's brings to carers and how New Age Care positively embrace those challenges.
What particular challenges does Alzheimer's bring for your services users and carers?
With Alzheimer's and Dementia in general, service users experience memory loss. This can be frightening and disorienting for them. One service user in her early 70s gets very emotional, she has short term memory loss and can't remember how to use her phone. She forgets words and checks her diary 50 times a day. Her carer has to reassure her that the diary is correct.
Working with people with Alzheimer's is all about having patience. If a service user asks a question 20 times the carer need to be prepared to answer it 20 times.
What techniques do your carers employ with people with Alzheimer's?
Alzheimer's is often treated with medication that makes people drowsy (and therefore less challenging). We always prefer to help encourage independence and inclusion. It is essential not to write service users off simply because of their diagnosis. We try to encourage them to continue to carry out daily tasks. We keep them physically active. We wrap them up, get them out in the fresh air, get them out walking, take them to a dementia café.
Stimulation is essential. This could be through exercise, drawing or activities. One lady likes to write so we get her addressing envelopes. We create things for her to do to stimulate her like potting plants.
A good carer can tell when aggression starts to appear and we would advocate distraction – changing the topic through conversation, leading them into a different direction, perhaps exercise or a new activity.
Encouraging service users to remain independent is helpful – it gives them something to do and also gives them confidence in their abilities. With one service user we label her drawers to describe what is inside them. If she is looking for coffee and a spoon she can find those things by reading the labels. This simple thing helps her continue do things for herself rather than being totally dependent on others.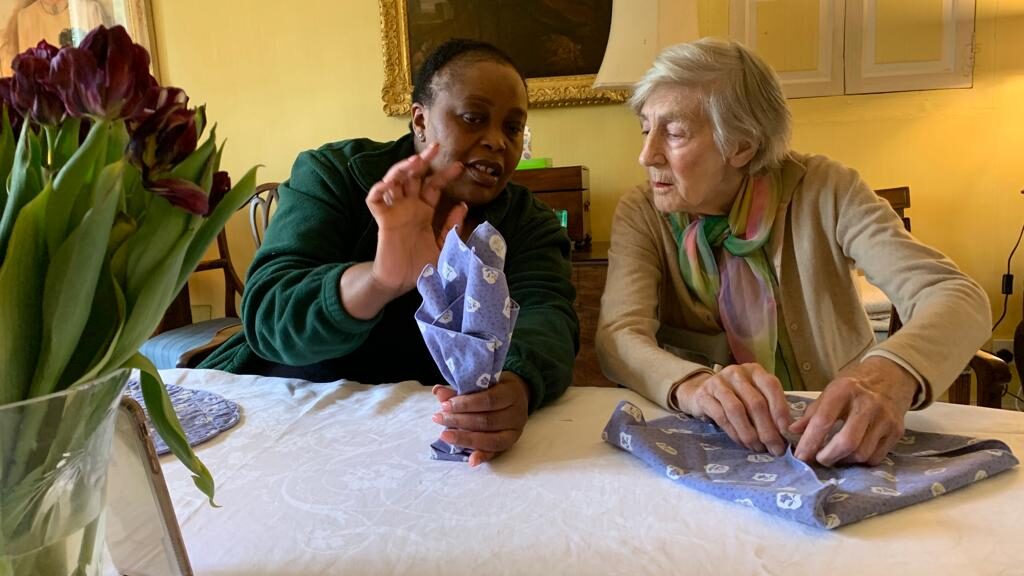 What qualities in a carer lend themselves to working with Alzheimer's patients?
The carers have to have patience. If the service user repeats something a hundred times they have to let that happen. If they want something to be pink then it's pink, regardless of how blue it may appear to you.
A carer becomes like a personal assistant or a personal trainer. With Alzheimer's short term memory can be non-existent. They know something is wrong but don't understand what. It can be very distressing and the carer is the arm around the shoulder, they become the service user's everything in that moment.
How has CareLineLive helped?
New Age Care started off paper-based but got CareLineLive early on. In the short time we've been using it, reviews have all been great. Families appreciative particularly of the care circle Family Portal. It's helpful in keeping families communicated with. Some of the children, are fairly elderly themselves and so need a bit of training to use it initially. Most can log on now and are reassured by the updates.
The Carer app is great for carers to be able to write up their notes. This is useful for the next carer going in. It's also used for shadowing calls where it is ideal to read the notes before shadowing. With paper based systems the care plans are in the house, so carers can't read them before they get there. With CareLineLive all the information is available in their pocket via the app.
Other ways CareLineLive can help support people with Alzheimer's and dementia
Using CareLineLive for care planning gives managers numerous opportunities to collect information on the challenges faced by people experiencing memory loss, thus allowing them to create tasks for care and support staff to deliver outstanding person-centred care.
The assessment feature includes 14 assessments which actively encourage the  user to dive straight into person-centred care planning and service delivery. All aspects of health and social care needs are covered including; the client's past and present history and what their goals are for the future, communication, mental health, social and emotional wellbeing.
Additionally, care staff using the app can highlight concerns in real time allowing managers to be proactive in supporting clients to live as independently and happily as possible.