We had a chat with Murray from Coastal Homecare about why he loves being a carer and what he thought of winning our October Star Carer award.
Murray was nominated for our Star Carer award as he does so much for his clients. For example, he was caring for a client who was discharged from hospital in a gown and had no clothes of his own. Murray brought in his own clothes until social services got something organised. And his clients are full of praise too with feedback such as "Murray has been very good, excellent and gentle with my relative" and "he can always be relied upon, he goes above and beyond".
Thanks for all your hard work, dedication and passion Murray and congratulations on being CareLineLive's October Star Carer!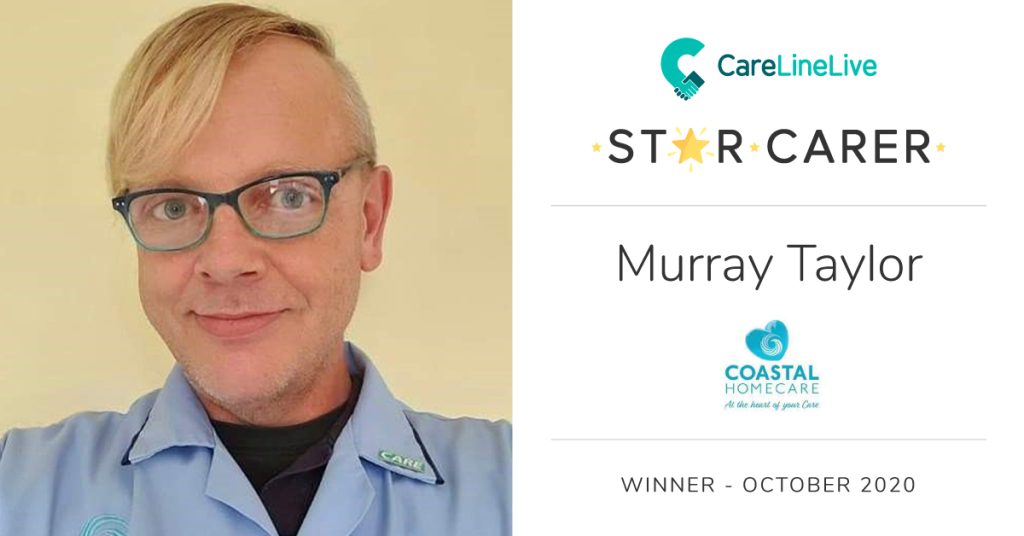 What was your reaction to winning CareLineLive's October Star Carer Award?
I was thrilled, I did not expect it at all, so it came as a complete surprise, I was very honoured and thankful to the people that nominated me.

I would also like to say a personal thanks to my double-up team; Emma, Billy, and Charlotte and all the staff in the office at Coastal Homecare.
What aspects of being a Carer do you enjoy?
I enjoy going to visit people and seeing them have a smile on their face, despite whatever adversity they are facing, knowing we can come in and make a difference makes me feel good.
How does CareLineLive's Carer Companion App help in your job?
Tremendously, the difference from when we did not have CareLineLive is amazing, we used to spend hours doing notes about the call and the client. Sometimes you would go to a call and have no background information.

Now we have all the information at our fingertips and we have full details for each client every time we go, so we can provide excellent service every time. That makes a difference to the client, they know that they are getting a consistent service from all members of staff.
What's your experience of being a Carer during Covid-19?
We have not had to deal with any COVID-19 cases, so we have not had any major difficulties. It has been difficult wearing masks as clients sometimes cannot understand what we are saying. The only major difference is providing extra reassurance about what is going on in the current climate.
How do you switch off after a hard day at work?
I watch movies for pure escapism. I also do digital art, I make new outfits for Avatars and make avatars themselves.