Brightening Lives, a home care agency supporting people with complex needs, has recently implemented eMAR to help deliver safe and responsive care using CareLineLive's Carer Companion mobile app.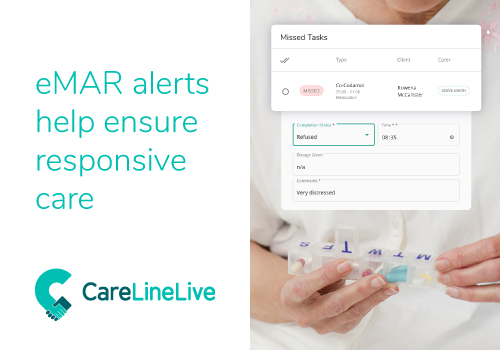 eMAR medication system
Before onboarding with CareLineLive's home care software, which includes eMAR capability, Brightening Live's staff were using paper MAR charts that would be updated in the office and then sent out to a client's home. At times this meant having to make long journeys across Yorkshire to deliver an updated MAR chart. This way of working represented several challenges: being able to update/distribute paper MAR charts quickly and auditing MAR charts efficiently to ensure medication had been administered correctly and the right information recorded.
"Administering an incorrect dose of medication was the most commonly-reported error in statutory notifications from adult social care services."

Medicines in Health and Adult Social Care: Learning from risks and good practice inmedicines CQC Report, 2019
A responsive system for medication administration
Being a nurse, Brightening Live's owner Clare Flynn knew that medicines can change very quickly and are critical to a person's care, hence wanting to find a responsive system. With CareLineLive's eMAR, managers can update medicine information for clients on any Internet connected device immediately and share this information in real-time with carers via the Carer Companion mobile app. The agency's carers have been able to administer medicines safely as they always have access to up to date information such as route, date, time and any side effects. Working with CareLineLive's eMAR has removed any restrictions to a client's care as changes can be made immediately. This is important for some of Brightening Lives' clients as their medicines are titrated and changed weekly.
The team were trained in a staged approach. Staff used the paper-based version of the eMAR chart to get used to the codes before using the Carer Companion mobile app. The team have found it a simple and efficient system to use. Plus they like that they can easily make notes about clients, which can be communicated back to managers in real-time.
With CareLineLive's eMAR, Brightening Lives can demonstrate to the CQC that they are safe, responsive, and well-led in their medicine administration as eMAR is auditable. Regularly, management run reports and export eMAR charts to check medicines have been given correctly.
"The CQC are looking to see that we keep people safe with their medicines but also that we meet their needs. If we can't administer a newly prescribed medicine for some reason that is considered an unmet need. CareLineLive's eMAR allows us to safely administer medicines and ensure our clients are not being put a risk."

Clare Flynn, Owner, Brightening Lives
Alerts keep managers up to date
Alerts are an important part of the eMAR system; managers are immediately alerted if there is missed medication and informed of the reason, e.g. no stock. This allows them to act immediately and keep their clients safe. Furthermore, the app enables carers to take photos that are stored within the Carer Companion mobile app. These provide evidence, e.g. when there is a change of medication.
Keeping family informed
During the current pandemic, it's been more important than ever to keep the family of those cared for kept up to date. Usefully CareLineLive's Family & Friends Portal provides details on carer tasks and eMAR completion status, visit notes, dates, and schedules. Plus if consent is provided, information can be shared with relevant service providers to ensure a client's care is joined up.
Brightening Lives said the overarching benefits of eMAR are four-fold: accessibility to critical medicine information through the CareLineLive Carer Companion mobile app negating unnecessary paperwork; the ability to update in real-time thus providing responsive care; being completely auditable for CQC purposes; and being able to help maintain their vision of providing care that does not restrict their clients' lives.
For more information on how CareLineLive's eMAR and Tasks work click here.