With a target for the NHS to be paperless by 2020 and with more and more Home Care agencies moving to computer based Care Management Systems, its evident the benefits that using Care Management Software can bring.
Essentially, better use of technology within the Home Care sector can:
Improve efficiencies and reduce administration through automation of processes
Give managers and carers more control over their workload and more time to care
Empower carers and agency managers with real-time client information to make the right decisions when necessary
Give clients and their families more control over their care
Enable a Home Care agency to increase their productivity and grow their business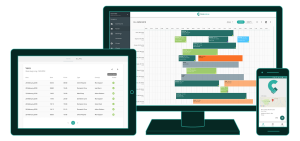 Care Management Systems can provide a whole problem solution that includes automatic rostering and timesheets, accurate payroll, invoicing and Mobile Apps that carers use to access their rotas, client information, care plan, and log their visits. This dramatically reduces the administration time that would be spent on a paper based system; typing up schedules, collating timesheets, checking timesheets, filing, updating any roster changes and printing documents – the list is endless.
Utilising a Care Management System increases efficiencies as carers and managers no longer have to take notes by hand and then input these notes into a database.  Data is stored securely and logically with multiple people being able to access client records simultaneously – which is impossible with a paper-based care management system. Plus historical information is easily accessible should it be needed
Care Management Systems also reduce margin for error as there are no lost notes/data, poor filing, and accuracy of information is increased. It is also easier to be GPDR compliant when using Care Management Software as data preferences can be easily recorded and kept up to date.  Unlike paper based systems, Home Care agencies who use Care Management Software do not need huge amounts of storage space for paper files, especially if their system is cloud based, like CareLineLive, which negates the need for additional hardware.
With any type of care, communication is paramount. CareLineLive's Care Management System enables carers and care managers to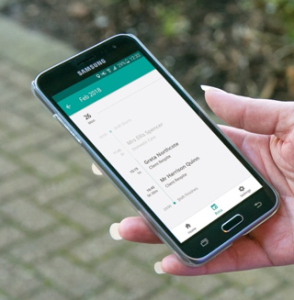 communicate via the Mobile App to update the team regarding any issues that are faced with client care on a day-to-day basis. The Mobile App serves to inform carers on any change to their rotas, which is quicker and more efficient than providing updates by phone which is the process used with paper-based rotas.  Carers can access and update care plans easily on the CareLineLive Mobile App, with information being immediately available at the Home Care agency's head office if required.  With paper-based systems, keeping track of carers and their whereabouts can be time-consuming and sometimes a difficult task. Mobile Apps, such as CareLineLive, designed specifically for carers remove that task as all visits are automatically logged with secure Check In and Check out and carers' whereabouts are tracked via GPS, improving the safety of carers.
Additionally some Care Management Software, like CareLineLive's Family & Friends website, enables relatives to keep up to date with the care of their loved ones, through accessing information in real time such as visit schedules/ confirmation and communication of any updates/issues. The CareLineLive Family & Friends website is integrated with the CareLineLive Management System and Mobile App saving managers the time that they would have spent making and receiving phone calls from family members.
Another huge advantage over paper based systems is that Care Management Software enables businesses to process data and generate reports quickly and easily, for example on carer performance. Not only is this beneficial in understanding and pinpointing areas which can be improved but aids auditing for CQC purposes. Disseminating data from paper based systems is timely and a complicated process.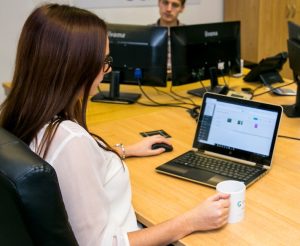 Care Management Systems such as CareLineLive enable Home Care agencies to be more productive, more responsive and give both an agency's management and carers more time to care; for their business, their staff and for their clients.
With the myriad of solutions available, the transition from a paper-based system to a computer-based Care Management System can seem overwhelming. CareLineLive is built with Home Care agencies and offer a solution that will save your business time and money, furthermore their dedicated sales and operations team ensure the implementation of their Care Management System is seamless so that business can continue as usual.