Josh Hough, Managing Director of CareLineLive, explains why they are sponsoring this year's Great British Care Awards.
"CareLineLive are proud to be sponsoring the Home Care Worker award at the Great British Care Awards this year.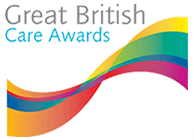 As a leading cloud-based Care Management System provider, we work with Home Care agencies every day and understand the importance of providing high quality care to those living independently in their own homes. People are at the heart of successful at-home care and having a fabulous Home Care worker who loves what they do can be life changing and have a hugely positive impact on those receiving care on a regular basis.
Through supporting and working with Home Care workers with our Carer Mobile App, we appreciate, on a day-to-day basis, the hard work and continuous dedication that Home Care workers undertake within their roles. We understand the demands of the job and the flexible approach that Home Care workers must take as no two days are ever the same. We value that Home Care workers at times have to use their initiative as situations can present challenges, however a Home Care worker's role is also rewarding as they get to bring a smile to someone's day and make sure they are okay.
We at CareLineLive, are pleased that the Home Care Worker award offers a fantastic opportunity to celebrate those who have provided excellent service to people living in their own homes. This award offers recognition to those who treat their clients as individuals, have gone above and beyond their duty, used their initiative, and have continually improved their skill set through self-learning and training.
CareLineLive would like to wish all the finalists the very best of luck and we look forward to attending the awards in March!"