Cloud based working is becoming the norm in businesses as it offers so many more advantages over on premise systems and applications.
Forrester predicts that more than 50% of global enterprises will rely on at least one public cloud platform to drive digital transformation and delight customers (source: forbes.com).
The likely results of using a cloud based Care Management System are clear:  it can increase efficiency, a business's capacity and cash flow. We explore why more and more home care agencies are choosing a cloud based Care Management System to help run their business.
Accessibility
Owners, management, carers, family and friends can access a cloud based Care Management System wherever there is an internet connection. Like CareLineLive's Care Management System, it can also be accessed via different devices whether that's a desktop, tablet or a mobile handset – so it's completely adaptable to anyone's working environment – both in and out of the office.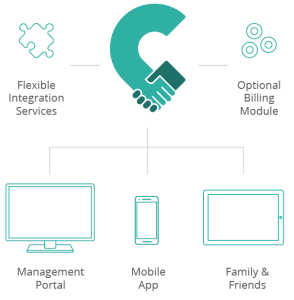 Scalable
Because cloud based systems are ran over the internet, it's simple and quick to scale up any requirements as a business grows and agencies take on additional carers , no matter what their geographical location, as Ronnie, Owner of Coastal Homecare, explains
"We chose CareLineLive over other systems as we were impressed with its functionality. Plus it's been easy to install and can grow with our expanding business as there was minimal set up costs as we didn't need lots of new hardware"
Minimal Set up Costs
Customers' budgets are maximised as there is no need for expensive hardware as cloud based Care Management Systems use the internet as a remote resource.  CareLineLive offers a simple and affordable monthly pricing plan per carer which includes all software, hosting, carer handsets, and airtime and it is completely flexible to your business needs.
Security
Cloud based Care Management Systems are totally secure.  To ensure additional security, with CareLineLive's Care Management System, data is stored securely and resources are totally separate for each customer.
Dec Norton, Development Manager at CareLineLive, emphasises the importance of security as part of their services:
"Using the Amazon Web Services platform, we ensure data is encrypted from end-to-end; from the moment data leaves the app to the moment it is stored. Customer databases are backed up multiple times a day, ensuring there is no risk of lost data."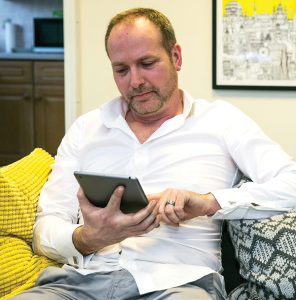 Collaboration
The ability to access real-time updates and analytics can also increase staff productivity, reduce the administration load and offer peace of mind to Family & Friends of relatives, such as CareLineLive's Family & Friends website – a portal that keeps relatives up to date with visit schedules, carer details and any issues that may occur.
Adaptability
Cloud based systems are able to quickly adapt to their customers' needs through the ability to launch updates and add-ons to applications quicker than desktop systems ensuring customers are benefitting from the latest technology. Care Management Systems, such as CareLineLive can automatically run system updates with no input from or interruptions to home care agencies' work schedules
The benefits of a cloud based Care Management System are evident – it can make your business more efficient and give you more time to care, for your business, your staff and your customers.
Learn more about CareLineLive and the benefits its cloud based Care Management System can offer your home care business.