We had a chat with Francesca from Alesco Care Services about why she likes being a carer and what she thought of winning our November Star Carer award.
Francesca started with Alesco Care Services as a volunteer in April this year to assist the company during Covid-19, she then joined their team as a permanent member of staff. During her time with Alesco Care Services she has worked 12 hour days, never called in sick, has gone above and beyond and works tirelessly in her role as a carer.
Thanks for all your hard work and dedication Francesca and congratulations on being CareLineLive's November Star Carer!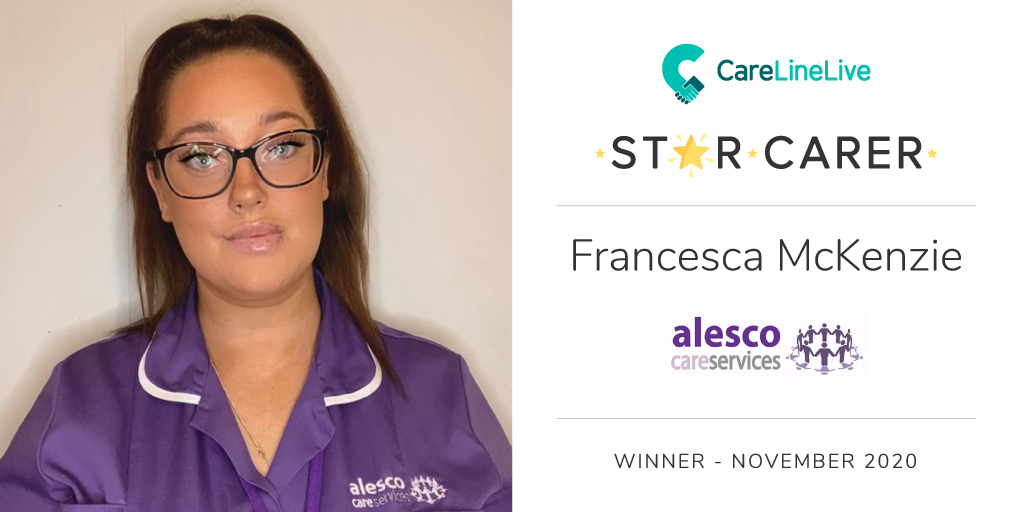 What was your reaction to winning CareLineLive's November Star Carer Award?
I was shocked to win the award, it makes you feel appreciated, and makes all the hard work feel worth it.
What aspects of being a Carer do you enjoy?
I love the social side of it. I love getting to know people from all different walks of life and not knowing what to expect – every day is different, I love it.
How does CareLineLive's Carer Companion App help in your job?
It's so much easier than using paper and it's so much quicker than paper as you don't need to spend time going through Mar charts, for example. If you have a new client, you have everything in one place on the app so you know what you are doing. It is so so much easier.
What's your experience of being a Carer during Covid-19?
It was challenging and different as I was new to caring when I started and it was during a global pandemic, but it has been amazing. I was thrown right in at the deep end but it has been great.
How do you switch off after a hard day at work?
I don't really switch off, sleeping is the only time I stop. I have a 5-year-old so I go from a busy job and to a busy home!