CareLineLive had a fantastic time at the Care Show at NEC Birmingham October 12-13th 2022, meeting many of our existing customers and potential prospects. Our team, with many years of experience in the home care sector, was able to answer a variety of questions and demonstrate the CareLineLive platform. We made time to visit other stands and meet with many like-minded professionals committed to making a positive impact in the health and social care sector.
I had the pleasure of attending talks by a number of high profile speakers. In particular The CQC Keynote: Putting People at the Heart of Regulation. Kate Teroni, Chief Inspector of Adult Social Care for the Care Quality Commission and her colleague Linda Hutchinson, Expert by Experience, shared their experiences and knowledge. Linda spoke with passion and clarity about the struggles her daughter experienced when using care services and how her life was turned around when she received the right help that she desperately needed; this has positively turned her life around.
Kate spoke about the importance of integrated care and in particular pressed providers to tackle issues around oral care, highlighting the lack of consistency in assessing and delivering good oral care. The CQC's review 'Smiling Matters: Oral health in care homes' (June 2019), highlights the good work that some providers carry out within their care homes with great care planning and oral health best practice being delivered to clients. However, many providers fall short of meeting the oral health needs of people using their services.
Oral care is a priority across the industry and most definitely a key component of good care planning. Good oral health is critical and the NICE guideline NG48, published in July 2016, recognises the importance of good oral care. Their recommendations aim to maintain and improve the oral health of people using services, including dental health and daily mouth care, for adults in care homes and quite obviously across the sector.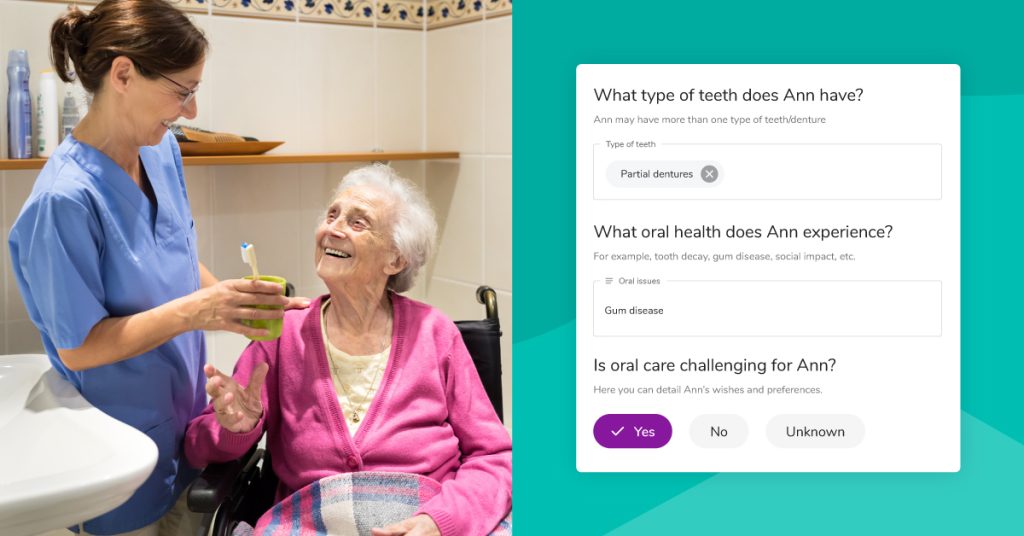 How CareLineLive helps with oral health in home care clients
At CareLineLive we are striving to make sure that we are informed and staying ahead of the curve, listening and acting upon key issues within the industry. Whilst researching for the design, specification and development of our personal care assessment I was clear about what needed to be included to allow providers to assess the needs of their service users. This included a section covering oral care. Some may ask why is it so important? The impact of poor or inconsistent oral care is huge. Comprehensive oral health assessments have the following benefits:
Quality of life
Keeping people free from pain
Enhances communication
Helps reduce the risk of malnutrition – helps with taking medication
Helps to reduce isolation
Helps to reduce challenging behaviour
Encourages integrated care Eg. Dental care and treatment
Find out more about our assessment features here.