CareLineLive has been selected as a finalist in the LaingBuisson Awards by the judges in the Public Private Partnership category. The category looks to recognise excellence in a strategic partnership between the public and independent sectors with a focus on outcomes, value for money and innovation.
Our work with Mid and South Essex NHS Foundation Trust during the Covid-19 pandemic to improve efficiency, capacity and ultimately client care has been highlighted for the award.
The Trust's Bridging Service works to help patients get out of hospital more quickly with a quick and smooth transition which reduces "bed blocking", hospital delays and readmissions, huge issues for the NHS which can see delays in patients leaving due to the time it can take for domiciliary care to be arranged for patients once they are back in their own homes.
Since working with CareLineLive, the Trust has been able to support ten times as many patients as it could previously, as it has helped the Trust's Bridging Service to become more efficient and enable patients to get out of hospital more quickly with fewer patients being readmitted to hospital.
The Trust's unique Bridging Service provides domiciliary care for clients in their own homes, and bridges the gap between them being medically ready to leave hospital and their social care provider providing care. The service reduces hospital delays and readmissions, and has grown exponentially since the Trust onboarded CareLineLive at the start of the pandemic. This expansion did not require any increase in the administration overhead costs of the service, as the software enabled scaling without needing more administrators.
John Walter, Head of Integrated Care at the Trust commented: "This nomination shines a light on how together we are improving the lives of patients by helping continue their care at home or in their care environment. Before CareLineLive we'd saved 5,331 bed days, but since having it at the Trust we have saved an incredible 13,000 bed days between April 2020 and March 2021. Furthermore, from April 2021 to the end of March 2022 we have saved 15,890 bed days, so we know that a key part of our growth, productivity and extra capacity has been with the help of CareLineLive, alongside our existing works.
"Most importantly, this has all had a huge positive impact on patient care as it has enabled us to support more patients at home in their recovery following discharge from hospital.
"CareLineLive transformed our service from paper to digital, meaning we were able to significantly increase the number of patients we were able to support at home year-on-year, and helped us deliver on our top priority of providing high quality patient care.
"What we are doing is working for patients and the Trust, giving better bed availability for patients who need a hospital bed, which we would have otherwise lost. Everyone is a winner with CareLineLive."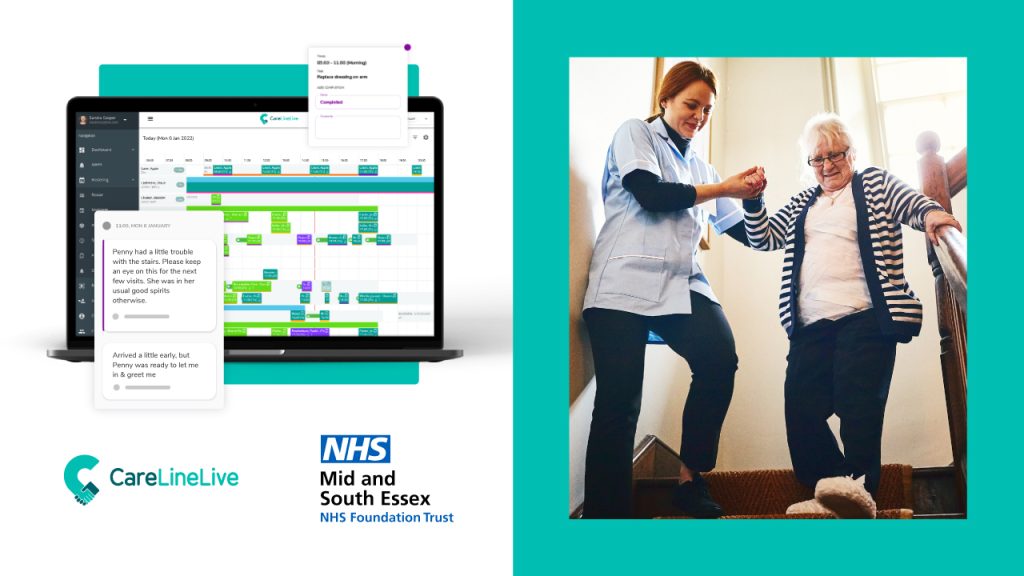 CareLineLive provides an all-in-one, easy to use, cloud-based home care management system to digitise processes such as rostering and care planning, eliminating the need for paper-based administration and giving carers more time to care. It has enabled staff to work remotely, document remotely and receive their schedules electronically and has reduced unnecessary trips to the office.
CareLineLive has taken the Mid and South Essex NHS Foundation Trust's service into the 21st Century with digital note writing and scheduling and has enabled considerable growth. CareLineLive's digital recording solution has transformed the way the Trust works and delivers patient care in the community.
CareLineLive's innovative solution has helped the Trust increase efficiency, transform its services and future proof existing ways of working and delivering patient care. It has ensured their service is more sustainable, helped with GDPR compliance and mitigated against data issues. The Trust now has the confidence to scale further without additional hardware costs as it operates on Amazon Web Services.
The data from CareLineLive has also enabled the Trust to get more insights into its operations which can lead to further savings and efficiencies.
The LaingBuisson Awards celebrate businesses that set new standards of excellence within their industries. Now in their 17th year of recognising excellence, they are judged independently and objectively and focus on the people providing the care as well as their advisors. This year the awards received 649 submissions.
Edit after the awards ceremony
Whilst we didn't win in our category we were delighted to be nominated and enjoyed a fabulous evening with 1,000 people working in the health and social care sector including our special guests from the Mid and South Essex NHS Foundation Trust and also Delta Care.