Emma, Deputy Care Manager at CI Home Care, talked to us about CareLineLive's easy-to-use home care software, how it helps in the day-to-day running of their agency and how it has saved her time.
CI Home Care is based in Jersey and offers both live in and hourly care. They work with nearly 50 carers looking after approximately 80 clients and use the CareLineLive home care management system with managed handsets.
Tell us a little bit about why you chose CareLineLive?
Our previous system was quite basic and not very user-friendly. Unless you spent a long time on training, it was only the managers who could use it. We needed a system that was user-friendly, like CareLineLive, so all the senior staff can use it for scheduling and the carers can use the app during their visits.
How easy was it to transition to CareLineLive?
We did it very slowly, we kept our old system and dual ran both systems. Our senior staff started to use CareLineLive first and then we rolled out CareLineLive to our carers. The process took 3-4 weeks by the time we set up all the service users and staff.
What has been your experience of CareLineLive?
It's good and simple to use
How has CareLineLive helped you in your role as Deputy Care Manager?
For me, it has saved me loads of time as far as scheduling goes, which then frees up my time to do my other work.

For our clients, it means our carers have more time to spend caring for them, as they have all the information they need and don't have to take time to read through paper-based care plans.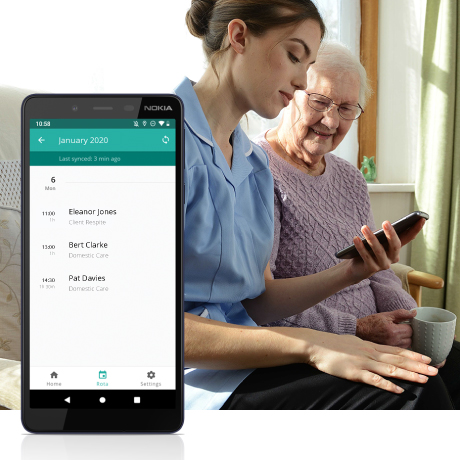 What are your carers' favourite features of CareLineLive's Carer Companion App?
They all say how easy it is to use. They find the GPS so helpful because if carers have not been to a place before, the app means it is very easy to find a client's house.  They like how simple it is to sign in and out of visits and they have the phone to use for support, when they need help – as they all use managed handsets.

When our carers used to use their own phones, they would not sign into visits as they did not want to use their own data, they also texted for us to ring them back. With managed handsets it's much easier.
How does the Carer Tasks on the Carer Companion App help your carers?
They find the Carer Tasks very helpful and if there are any changes, e.g. to an appointment time, we can always add this into the clients notes which they check daily in case there is anything extra they need to do.

The app works well as all the information is updated quickly and in real-time, so the carers are always informed.
What do you think of the support that CareLineLive provides?
It's been good and its easy to get hold of anyone if there are problems. Whenever I set up a new carer and I have a question, there is always someone who will get back to me quite quickly.
Would you recommend CareLineLive?
Yes, I would definitely recommend it as CareLineLive saves us a lot of time and it is so user-friendly which is what we struggled with using our previous home care software; now everyone uses the system.

It has been so easy to teach our team how to use the system, which saves us a lot of time.