We had a chat with Jess from We Simply Care about why she loves being a Care Specialist and what she thought of her Star Carer award win.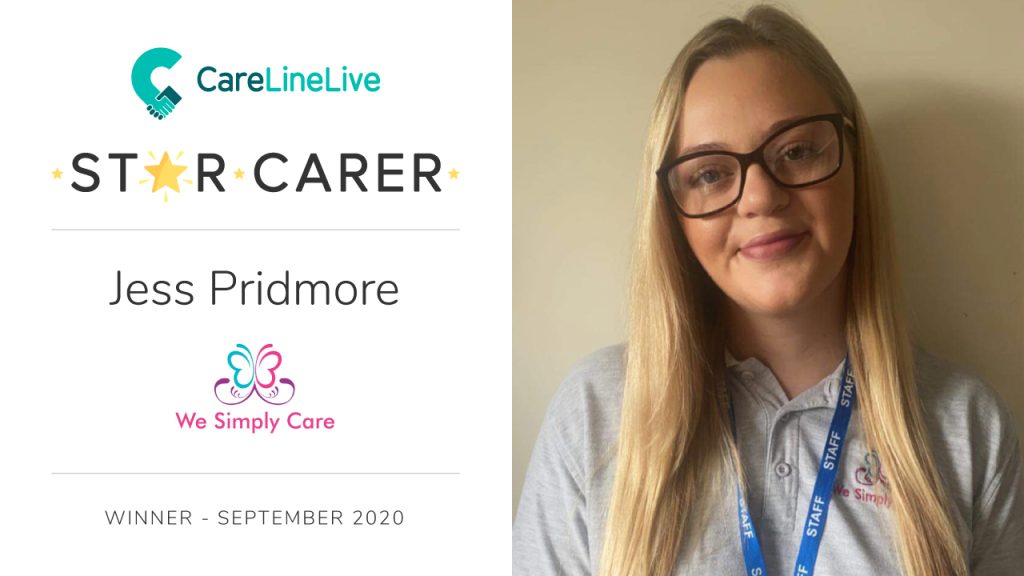 Jess was nominated for our Star Carer award as she is committed to her role as a Care Specialist and always goes way above expectations. Despite sadly losing her Dad to Covid-19, Jess is always happy and bubbly when working. Jess visits customers in her own time and even cooks paella with them!
Thanks for all your hard work, dedication and passion Jess and congratulations on being CareLineLive' s September Star Carer!
What was your reaction to winning CareLineLive' s September Star Carer Award?
I was chuffed, really chuffed, it's nice to feel appreciated. Before I worked for We Simply Care, I found that people sometimes forgot to show appreciation for the work that Care Specialists do.
What aspects of being a Care Specialist do you enjoy?
All of it, I just love meeting new people as I love finding out about people's lives and chatting to them.
How does CareLineLive's Carer Companion App help in your job?
The carer app is really helpful. I have never seen a system like this, it makes life much easier as everything is on my phone, it tells me what time I need to be at my visits and all about my clients' care needs, it's a really good bit of kit!
What's your experience of being a Care Specialist during Covid-19?
It's been difficult, previous to working at We Simply Care I worked in a care home and as people were not able to see their families and I worked with Dementia patients, it was quite difficult to explain the reasons why there were no visitors. It was a scary and emotional time.
How do you switch off after a hard day at work?
I am also at college studying part-time, so I make sure that on my 2 days is off, I do switch off. I listen to music and watch romantic comedy films and spend time with my mum, I think it's important to unwind before the next shift and start the day with a clear head.