A report published last September by the National Association of Care and Support Workers (NACAS) reported that 79% of care staff said they have experienced or felt 'close to burn out'. Although social care can be rewarding and flexible, the job that care workers do is not only physically demanding but emotionally demanding and can put stress on the mental health of carers.
During COVID-19, the challenges of social care work are heightened. At a time when emphasis is put on the clients that are being cared for, it is also important that the mental health and wellbeing of care workers is prioritised.
We at CareLineLive are not mental health professionals. However, through some online research we have put together some advice and resources that may help you and your staff during this challenging time.
Being open
Managers play a crucial role in supporting carers. Having an open culture and being open to conversations about mental health is important in the first instance, as people feel more at ease talking about any issues.
Regularly asking staff how they are doing also demonstrates an interest in people's wellbeing day-to-day. Focussing on what has gone well in their day, not what could have been done better helps.
Be Prepared
When your employees are having issues, have a list of resources that may be able to help them with their problems.
Maybe this is not the right time now, given the extra workload, but in the future, it could be a good idea to appoint a Mental Health first aider. Any of your current staff can become one, find out about training through MHFA (Mental Health First Aid) England.
Every Mind Matters has recently published a guide to looking after mental health during COVID-19 that provides useful advice and tips.
The following are some ways we have found for combatting stress, these are not beneficial for the mental health of carers, but for everybody:
Do something enjoyable
Try doing something new or do something you find enjoyable and that takes your mind off work or any concerns you may have.
Talk to someone
It is important to talk about your feelings, especially when you are feeling a bit down. Talking to a manager or someone you trust about how you feel can help to work towards a resolution.
Energising yourself
A 20-minute walk has been shown to improve wellbeing. Being physically active can help raise self-esteem and it releases happy chemicals in your brain, like serotonin and dopamine, to help to positively change your mood.
Being mindful & wellbeing
Being aware of your thoughts, feelings, your body, and the world around you can help people enjoy life more and understand the world better. Mind, the mental health charity offers 5 ways to wellbeing; being active, connecting to people, taking notice of your surroundings, learning and giving.
Eat healthily
A healthy balanced diet is good for both your mental and physical health, more information can be found on the Mental Health Foundation website.
Learn a relaxation technique
Practicing relaxation a few minutes a day can really help with mental wellbeing, Mind provides 8 relaxation tips for your mental health – although produced before Covid-19, a lot of them are still relevant!
At CareLineLive, we work closely with our home care agency customers and their carers.
Plus, we hugely appreciate the work that our customers and their carers do, that's why last year we launched our Star Carer of the Month Award. Every month we recognise one of our customer's carers who has gone above and beyond with a personalised trophy and a Love2Shop voucher. It is a small way of showing our appreciation.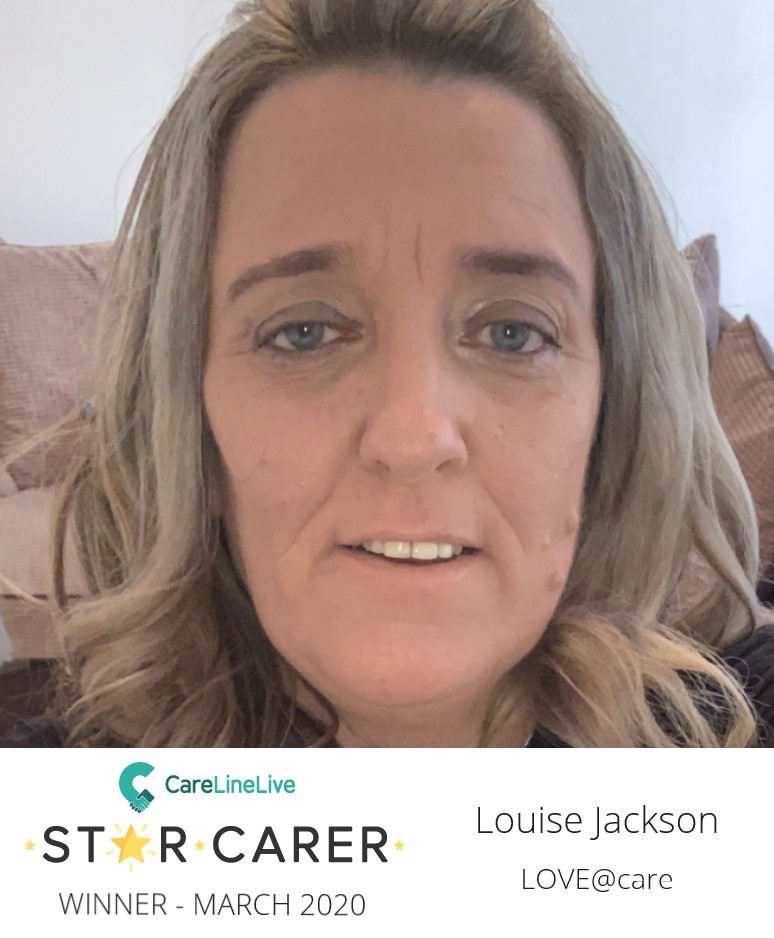 Stay safe and well and we hope the above has provided you with some useful tips!