A Carer's typical day can vary greatly depending on the need of their client, a carer's specialisms and qualities they have to offer. Carer's can offer individuals at home flexibility and independence, offering help and assistance when needed in the comfort of their own home.
There are 1.58m jobs in the Adult Social Care sector in the UK and that figure is set to increase year on year, proving the demand for good Carers to be essential. Carers can work for themselves or for an agency and can provide help as a live-in Carer, day care, emergency care or respite care for an unpaid family Carer. We take a look at a typical day for a Carer who works with the elderly in their own homes.
Our Carer looks after approximately 30 clients, on a weekly basis. The number of visits she does for each client can vary from once or twice a week, to daily visits. Some clients require up to 5 visits a day that serve to help with: the morning routine, lunchtime and medication, teatime preparation, and a bed call. Certain clients also need extra visits to help with toileting.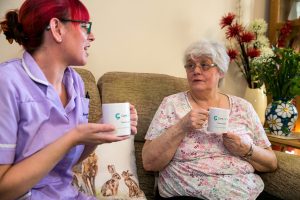 Her morning starts early, she gets up at 6.30am to be with her first client for 7am. Key duties include helping her client get up, get dressed, and making her breakfast. She uses the CareLineLive Mobile App to check in and out of her visits and to find out when/where her next visits are scheduled – all information is easily accessible on her mobile. The CareLineLive Mobile App also allows her to check and provide any client care plan updates directly back to head office either before, during, or after her visit. With the check in/check out functionality, her timesheets are accurate and updated automatically at head office so there is no confusion over the hours that have been worked and her pay is correct. Her morning continues with a series of client visits that last between 15 minutes to 1 hour, in total, before she breaks for lunch she has visited between 8-12 clients. At times, our Carer has to multi-task super-efficiently as some visits can only last for 15 minutes; she may have to get her client dressed, whilst heating up a meal, and then give them medication. As well as the day-to-day duties of care, one of our Carer's key roles is to provide companionship to those who are living alone and are rarely able to socialise or leave their house, if at all.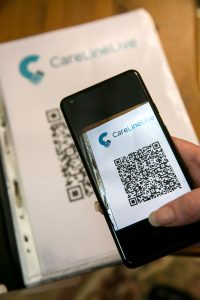 The afternoon starts with a new client, prior to meeting the client, she must read up on their care plan and understand their needs and requirements – a lot of the information is available on the CareLineLive Mobile App. In this job, no two days are the same as no client is the same; they all have different personalities, needs, and past experiences they want to share. After giving her new client their meds, checking their weight and making them some lunch, she it is off to visit a regular client. Here she takes her client to the local shops to get some essentials. It is then time to make a cup of tea, prepare tea, tidy up their house and have a quick chat. The day finishes after several more client visits; it's fair to say she has had a busy day and is ready to put her feet up!
Being a Carer can be tremendously stressful as well as fully rewarding as you get to bring a smile to someone's day and make sure they are okay. Friends and family of clients often need feedback from their Carers to put their mind at rest when organising at-home care for their loved ones. The CareLineLive Family & Friends website builds a continuous link between clients and their relatives and friends as they can access live updates about their loved one's care; from a visit's status to any immediate updates on their care plan.
There are numerous skills that a person needs to be a Carer, including being organised, superb at time management, having a positive 'can-do' attitude, being friendly, empathetic, able to multi-task, being able to use their initiative, a good problem solver, having patience, being an expert conversationalist and above all being caring.
For elderly people who want to remain independent and in their own homes, having a fabulous Carer who loves what they do can be life changing.