We had a chat with Danielle from Verina Daly Care about why she loves being a carer.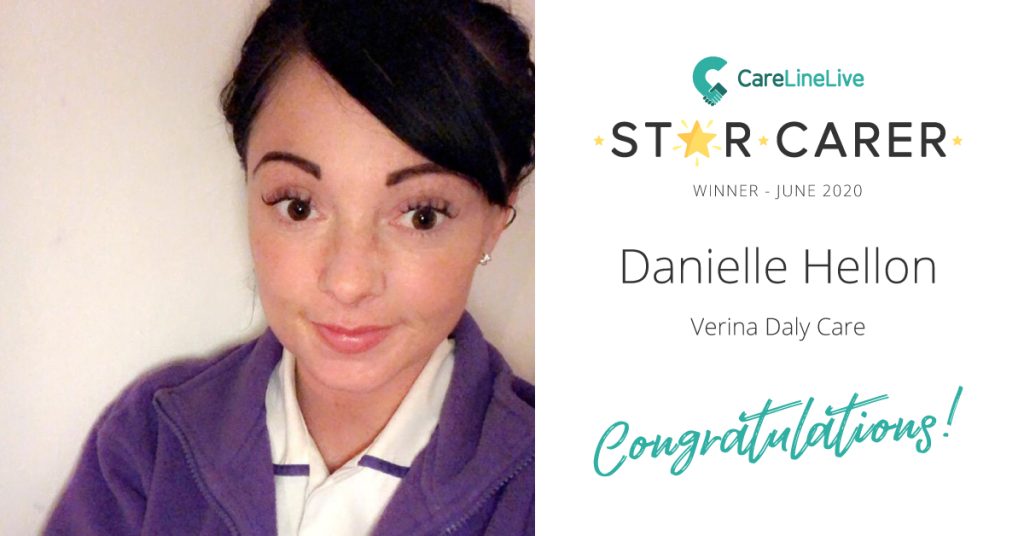 Danielle won a personalised trophy and a £50 Love2Shop voucher for doing a fantastic job in June. Danielle always goes above and beyond for her clients; she makes endless amount of impromptu shopping trips if they are ever without for example, one client's belt broke and the next morning before her own calls Danielle was in Tesco buying a new one. Her company describe Danielle as a pocket rocket of sunshine that brightens up everyone's day. Thank you for all your hard work Danielle and congratulations!
What was your reaction to winning CareLineLive's June Star Carer Award?
It was lovely to have the recognition from everybody.
What aspects of being a carer do you enjoy?
Absolutely every part of it, I have been a carer for 10 years now. I have always loved meeting different people and helping them to live their lives to the best standard they can, I just love everything about being a carer.

You can meet someone for the first time who doesn't want a carer and you can change their feelings to the point where they cannot wait for their carer to come as they really build a bond with their carer.
What's your experience of being a carer during Covid-19?
Initially your first thought is that you need to protect your clients and keep staff safe; we have delivered the same service and kept morale high.

I picked up extra services and took over shopping duties outside my working hours, to protect families that were isolating. It could have been a stressful experience, but we carried on as normal – for me it was rewarding to have worked through COVID-19.
How does CareLineLive's Carer Companion App help in your job?
It has really helped because I find it beneficial to download a client's care plan before we enter their home, it gives all carers a heads up as we upload risk assessments, care plans and medications. All the information is on our phones, everything is in order and more organised.
How do you switch off after a hard day at work?
I always come home feeling very positive about my work so I am quite relaxed. I am always thinking about the clients when I am at home as I am on call a lot, so I am thinking about them 24/7. We have a really good team at our work which is great.