Home Care agencies face a number of different challenges from managing their staff, to organising their rotas, to ensuring everyone has enough time to care, and that they meet the necessary standards set by the Care Quality Commission (CQC). With millions of hours of home care being provided in the UK each week Home Care agencies need to ensure that they are as efficient as possible in delivering a high quality, appropriate service where clients feel safe and happy with the level of care provided.
Paper based management systems are prone to error and are an inefficient use of time within the management of a Home Care agency. A paper based system does not provide the scope required to evolve an agency's business and to help improve its procedures to foster growth, unlike an online Care Management System.
A Care Management system, such as CareLineLive, can bring a number of added benefits to the management and running of a Home Care agency, ultimately increasing an agency's efficiency and productivity.  Whilst there are lots of different Care Management Systems available they do not offer the same functionality.
Josh Hough, MD of CareLineLive, explains "When choosing a Care Management System, it is important to consider not only how the system can help improve your business, but what on-going support and expertise the company can provide to your agency once the system is installed to maximise your business's growth".
The majority of Care Management Systems aim to reduce the amount of unnecessary paperwork within a Home Care agency through the automation of client rotas, timesheets and payroll, resulting in an increased workload capacity and improved cash flow.
"Using CareLineLive enabled one of our customers, in their first year, to increase their revenue by 50% and reduce their payroll disputes by 65% – this resulted in both increased staff retention and job satisfaction within their agency" confirmed Alex Alvarez, Director of Sales at CareLineLive .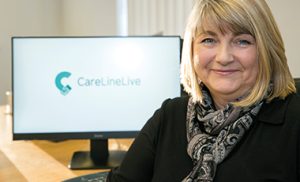 Ensuring all carer/client details,  visits, and care plans can be seen at-a-glance can also help improve productivity within a Home Care Agency. Not only that, Care Management Systems enable businesses to be more strategic in making decisions about how to improve their business as, using live data, reports can be easily generated for CQC and business accounting purposes.
CareLineLive's Care Management System includes the CareLineLive Mobile App that increases a carer's efficiency, making their job easier, with instant access to rotas and client care plans. It also improves payroll accuracy with automatically logging of visits with secure check in and check out. Additionally, Mobile Care Management Apps can improve carer safety with GPS tracking of client visit.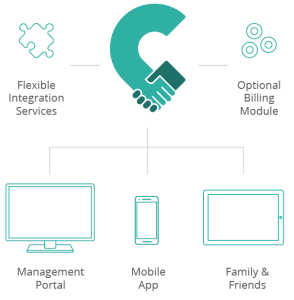 Some Care Management Systems offer functionality that communicates with relatives of those being cared for. CareLineLive's Family & Friends module that comes as part of their Care Management System provides live updates and visibility of visits schedules, visit confirmation and continuity of care information, 24/7 at a designated website.
It is also important to note the numerous benefits a cloud based Care Management Systems can offer  over an on premise system, when considering a Care Management System fit for your business. Cloud based systems can provide instant client updates for businesses to manage day-to-day challenges, can be accessed anywhere at any time (as long as there is an internet connection), enable staff within a business to work collaboratively and can easily scale up to meet a business's needs in times of growth.
With the increasing importance of keeping customer and client data safe online, any system must be 100% secure in the way that data is stored and managed.  To ensure additional security, with CareLineLive's Care Management System, data is stored securely and resources are totally separate for each customer. With a plethora of options available, when choosing a Care Management System it's imperative to ensure that you look for a system that can be adaptable, is fit for purpose and can grow with your business.
CareLineLive has been designed with Home Care agencies to address the unique needs and demands of their businesses. Learn more about CareLineLive and the benefits it can offer your Home Care agency.