With GDPR being enforced in May, businesses need to become more and more compliant with how they use, store and manage their customers' data. The new EU General Data Protection Regulation (GDPR) gives individuals more control over how their data is used and who is able to contact them. Not only that, companies have stricter rules on how they handle all customer data to ensure that all individuals are protected.
Within certain Home Care Agencies there could be thousands of customer data files stored on their company systems. Both with GDPR and the increase in the rate of cyber-crime, it's imperative for Home Care and Domiciliary Care Agencies to prioritise companies who place great significance on data security within their systems when choosing a Care Management System.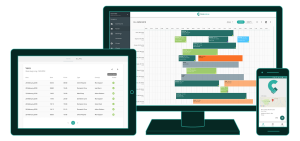 Security at CareLineLive is of the utmost importance and their Cloud based Care Management System is totally secure so that all their customers can be confident in knowing their company and client data are fully protected.
CareLineLive take the following security steps to ensure that all data is kept secure in their three integrated platforms: their Care Management System, their Mobile App and Managed Handsets and their Family & Friends Website:
Data and resources for each customer are stored securely and totally separately
Using the Amazon Web Services platform, CareLineLive ensure data is encrypted from end-to-end; from the
moment data leaves the app to the moment it is stored within the Care Management System
Customer databases are backed up multiple times a day, ensuring there is no risk of lost data
To protect against unauthorised access through social engineering or via a web browser or mobile app,
CareLineLive enforce the use of passcodes on all of their mobile devices and a session expiry so
CareLineLive's systems are not left open unnecessarily. Web sessions expire after 1 hour of inactivity
or when the window is closed. Additionally sessions for both the online system and App can be
terminated remotely through CareLineLive's Care Management System
Furthermore, unlike some Care Management Systems, CareLineLive provides their own secure and fully
managed handsets removing the unnecessary concern of carers having to use their own mobile devices.
This allows for data to be remotely wiped in the event of a handset being lost or stolen
Within the Mobile App, CareLineLive encrypt the phone's actual storage, and have an additional layer of
encryption for any files and databases that the Mobile App stores on the devices
Dec Norton, Development Manager at CareLineLive, explains CareLineLive's on-going approach to enhancing their security "We are constantly looking at ways to maximise security on our systems. For example we are looking at implementing additional security measures such as Two Factor Authentication (2FA) to access CareLineLive's systems online, as well as fingerprint authentication to open the Android app, not just to unlock the phone."
Whilst it is the duty of Care Management System providers to ensure that they are continually embracing new technology to protect the influx of data produced within the social care sector, Home Care Agencies also have a responsibility. Agencies are accountable for protecting their client's personal data, being GDPR compliant, and ensuring the Care Management Systems they use are totally secure, consequently security should be top of their selection criteria when deciding on a suitable Care Management System for their business.