We recently chatted to Mirina Ndhlovu who is a Director at AZ Caring Services, a domiciliary care and supported living provider based in Kent. Mirina spoke about how CareLineLive helped with improving some areas that were identified in their previous CQC inspection. We were incredibly pleased to understand how CareLineLive played a part in their recent improved CQC inpsection rating of 'Good'.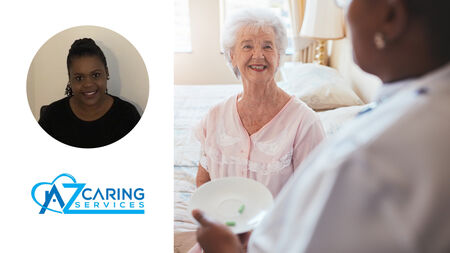 Tell us a little bit about AZ Caring Services?
AZ Caring Services was founded by our MD, Arthur Zvikaramba, who has worked in the health and social care sector for a long time. He is very passionate about caring, and believes in the vital role we have to play in safeguarding service users and staff welfare. He believes that changing the face of care starts with us as individuals.

We believe in providing optimum person-centred care as best as we possibly can with integrity and compassion. Communication is an integral part of our person-centred approach. We also have and encourage an open-door policy for our staff, services users, and their families.
Can you tell us your main reasons for choosing CareLineLive?
In 2019, we had our first CQC inspection and there were areas that were identified as requiring improvement. It was important for us to consider solutions that helped us make the necessary improvements as quickly as possible.

CareLineLive were amongst 3 home care software providers that we met. Their sales manager Julie was extremely helpful and came and did a demo of their system. CareLineLive provided us with the answers to our brief as it provides eMAR, allows us to see where the carers are, informed us of missed calls and late calls, and helped us improve the areas that the CQC had identified .

Since onboarding, CareLineLive launched their Family & Friends Portal so we can communicate to our service users' families. It really makes a difference as it gives comfort and reassurance to families that live far away as they can see what is happening in real-time. I can also upload documents to allow carers to have all the information they need on their carer app when they visit a service user.

Before CareLineLive, we did not use a software system. We chose CareLineLive over other systems as it is simple and straightforward to use. I found their support team was quick to get hold of and resolve any problems. They always communicate and make regular follow ups. I do not have to spend time on follow ups or worrying about whether my problem is being sorted.
How easy was it to transition to CareLineLive?
It was easy to transition to CareLineLive. I save time as I have stopped producing paper timesheets and do all the payroll on the Management Platform.
What areas of your business has CareLineLive had the biggest impact, and helped with your improved CQC inspection rating?
The main areas that the CareLineLive app has benefitted us is medication administration. I can upload all requirements onto CareLineLive for each service user and keep a track of what has been administered. Plus, I get an alert if anything goes wrong, for example if medication has been missed, allowing me to rectify the error in real time.

Additionally, all communication between our carers and the office is real-time so we always know what our carers are doing. I access the eMAR sheets in the office. It's so efficient as I now don't have to visit our service users' homes to check their MAR sheets and that medication has been given correctly. This sometimes caused delays in pinpointing any errors. With CareLineLive, we can rectify any issues quickly.

For us, eMAR has been the biggest feature that has helped improve our CQC ratings. Furthermore, we can now easily monitor that service users have been attended to at the right time and the visits lasted the allocated time.
How has CareLineLive helped with auditing and providing evidence for your recent CQC inspection?
It is very helpful as when I do my medication audits, all the information is there, I download the tasks, the MAR sheets, and do it all on a weekly basis.

I can audit all carers' notes and ensure that all our recordings are accurate as it is all in real-time. It has made auditing efficient and time saving allowing me to concentrate on other things. We are no longer wasting paper and ink either, so its environmentally friendly.
Does CareLineLive help save your carers time?
Yes, it helps them save time as they just tick the eMAR and tasks. They can check their service user's information on the app and they do not have to call the office to ask about specific service users. The app connects to Google Maps which saves carers time by directing them to the right place if they are not sure of where they are going.
Does CareLineLive help improve communication between your carers, your managers and the clients/their friends and family?
Yes definitely, within the agency, the app enhances effective communication as the managers can see notes in real time and act on them if needed. Carers can also leave handover notes. This means the next carer is aware of what has transpired, if there are any changes and what needs to be done.

With the service user's family, they do not have to wait for us to call them after each visit. They can now see visit notes on the Family & Friends Portal. We have the option to review notes on the Management Platform before they are made live on the Family & Friends Portal in case of any sensitive issues that might need actioning , this is done easily through an alert being raised.
Has CareLineLive helped you and your carers during COVID-19?
Yes, the Covid-19 symptom information and hygiene prompts that feature on the mobile app is good for the carers for reference and as a reminder.

The app has all the information that carers need including their rotas. Hence our carers do not need to come to the office as much, so contact is limited and social distancing maintained as much as possible.

I have also used the daily reporting as part of my daily updates to the CQC since the beginning of the pandemic.
On a scale of 1-10, how likely are you to recommend CareLineLive?
I would give CareLineLive a 10. The icing on the cake was the effort that Julie our Sales Manager made when she came and showed us how the system works. Also she keeps in contact with us on a regular basis. Julie is also excellent and patient as some questions were asked more than once. Plus the support team always follows up which is fantastic.