Donovan was born and raised in South Africa where he worked for the South African Police Services as an Operational Commander where he would analyse crime threats and crime patterns in order to deploy members to fight and prevent crime. He says that assisting communities was always a priority. Donovan arrived in the UK in January 2023 and joined CareLineLive in March.
What do you do in Customer Support and Onboarding?
When new customers join the CareLineLive family the support team carries out the onboarding with them and is with them every step of the way in terms of support. Whenever customers run into issues or have queries the support team assists them and helps to resolve whatever it is. We do our absolute best to make sure they feel valued.
Describe a typical day
The support team is the frontline for any issues, queries, onboarding, bug reports and feature requests. We carry out onboardings for new customers as well as refresher Q&A sessions. We also answer phones and respond to emails. This all helps makes sure the customers don't ever feel that they are alone witht the software and we will go above and beyond to ensure customer satisfaction
Best part of the job
There are lots of aspects of the job that are amazing and it is hard to single out the best part of the job. Hearing how happy customers are about how CareLineLive has helped their business to assisting customers resolve their queries and hearing how satisfied they are with our level of service fills me with joy.
When onboarding customers it is always great teaching them how the functions work and hearing how excited they are as the features will save them time as well as simplify their lives.
Worst part of the job
Software is for ever evolving and updating on a regular basis. Running into bugs are not a fun time as it is something that is out of our hands as support. We log the bugs and hand the matter over to the development team for them to resolve as quickly as possible.
What you most enjoy about working at CareLineLive?
CareLineLive treats employees like family. I love working with the support team. We assist each other and work hand-in-hand. When we resolve queries with customers and hear how relieved and grateful they are to be able to continue with running their operations always makes me feel happy.
What is something that people in home care have to deal with that you want to help fix?
The need for care is increasing rapidly. Technology is also ever advancing. Assisting customers to be able to utilise our system to its fullest to simplify managing their business is what I would like to help fix.
Surprising fact about you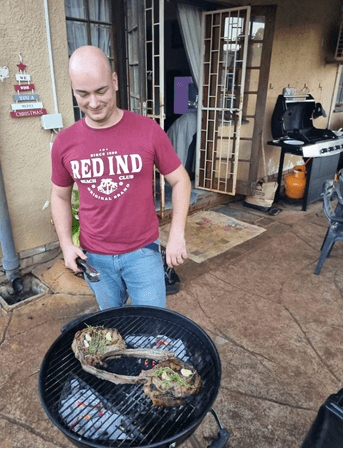 Coming to England earlier this year was actually the first time I have ever been on a plane or even 100 miles away from home. I also experienced my first train ride ever at the end of March which was rather thrilling!
I've not had the luxury of doing many fun things in life back in South Africa but I do enjoy braaing (a barbecue). These are two giant tomahawk steaks (rib eye on the bone).