The UK population is ageing. With approximately 23% of the population over 60 years old and 3 million of these people aged over 80 years old (source:mha.org.uk), there is an increasing demand from elderly people to maintain their independence and stay in their own home.
To facilitate this demand, finding good carers is essential. We look at what qualities are needed to care for the elderly – some of which may be acquired through training whilst others are more natural characteristics of a carer's personality.
Carers are responsible for all manner of tasks from providing companionship, to assisting with medication , to helping with personal care, and domestic tasks. Finding the right personality fit between a carer and a client is essential to a productive and harmonious relationship. We provide you with the top five qualities that a good carer should possess.
Passionate about Care and Kind-hearted
It's key that a carer wants to care, is interested in making their client comfortable and be rewarded from seeing their client live as independently as possible. Carers often have to adapt to different situations and be decisive so it's important that they are passionate about what they do and provide the best care possible.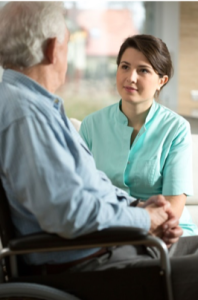 An Excellent Multi-tasker
The ability to juggle many things at the same time is essential to any carer role as it is a very demanding and diverse role. A successful multi-tasker can be more productive with their time, have more time to care and prioritise tasks as appropriate, ensuring the best level of care is given.
Cheerful Demeanour and a Good Communicator
Some of the older generation do not see people very often so a carer who is happy and can bring their bright smile into someone's home will certainly brighten up an elderly person's day. Being a good listener and able to have a good chat over a cup of tea is also an essential skill, as well as showing a genuine interest in who they care for.
Being able to effectively communicate key information about a client back to head office/relatives is vital to a carer's role. Some carers use Mobile Apps to provide 2-way communication to their head office/client's family about their client's care. CareLineLive's Family & Friends Website enables a client's relatives to be kept informed about their loved one's care with instant access to visit schedules, visit confirmation and live communication about any important issues or updates.
"My brother uses a carer now he lives on his own to help with his domestic chores. What's important is that they have a kind disposition and are reliable. It's also key that both he and us understand what carers are visiting so there is continuity of care" Brian Evers, St Albans
Qualifications
Carers should be CRB checked and have the right qualifications. Training courses such as manual handling, so they know how to lift a client safely, first aid training, courses in caring for older people and/or experience of working with specific conditions should be considered when employing a carer. Check employment history to ensure that they can provide the right care for your loved one. All carers should show a willingness to learn and use their initiative – to improve and optimise a client's care.
A Good Timekeeper
Many carers look after a number of clients so they must be self-organised, be punctual, reliable and have good time-keeping skills to ensure they are not late for visits and have sufficient time with each client.
Respect & Trust
A carer will form the best relationship with a client when they are trusted and respect limitations. Appreciating that a client has his/her own mind and can have the ability to make their own decisions is crucial – at the same time enabling them to remain safe in their own home and helping them with daily activities. It's key that carers do what they say they will do and have confidence in their work to build a relationship based on trust.