One of our newer members of staff is Finance Controller, Monicka Frisby. Here's her Meet the Team interview.
What does a Finance Controller do?
Basically, I look after the purse strings for the company, I am responsible for any money coming in or going out. I also have the most important job of paying the employees every month.
At the beginning of the month I also ensure that all our customers are billed for our services.
I make sure everyone pays us on time and likewise I ensure we pay our bills on time too.
Overall, I ensure the money side of the company runs smoothly.
Describe a typical day
I start with a cup of tea! Then I check emails and authorise any expenses that need approving. I then go into our four bank accounts and allocate any monies that have come into the account, and any monies going out must be recorded too. I then review and authorise any invoices received for payment.
Depending on the date in the month I will then process the payroll, update the pensions, review our direct debits, bill our customers and similar.
Every day is slightly different and as with all accountancy roles we have certain things that need doing at certain times of the month.
What did you do before joining CareLineLive?
I love travel and have worked in Finance for both Tui and Kuoni Travel over the last 20 years. One of the best jobs I had was working for Crystal Ski as resort accountant in Chamonix. Unfortunately, when the pandemic hit I was made redundant. I was working in accounts at AJW for just over a year when I took the leap to move to the smaller building next door in Slinfold.
Why did you join CareLineLive?
I have known Josh for a few years and when the opportunity arose, I jumped at the chance to work for an innovative company such as CarelineLive. I knew Josh would be a great leader and I was impressed with the growth and diversity of the company. I also wanted a flexible, varied role that fits around my busy family life.
Best part of the job
The job is varied, I like doing lots of different things and no day is ever the same.
Worst part of the job
If nobody else is in the office it can be a bit lonely!
What you most enjoy about working at CareLineLive?
It's a great working environment; easy going and very friendly.
I love the office dog – Woody is always happy to see me.
Surprising fact about you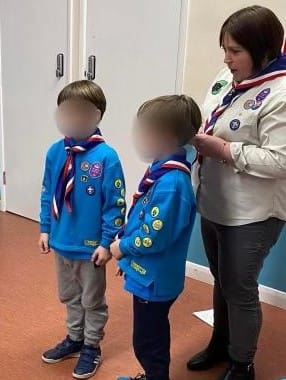 I am involved with Scouts in Billingshurst and am both Section Leader for Beavers and Assistant Leader for Cubs. It is great fun and very rewarding helping young people enjoy some different and exciting experiences.
I don't look like much of a runner, but I love running and have completed two marathons, the last one being Brighton in April. I regularly take part in local races so that I can add to my considerable medal collection.