The time has come for our multi-feted Managing Director, Josh Hough, to share his experiences on the day-to-day running of CareLineLive.
What does the Managing Director actually do?
My partner frequently questions whether I actually have a job because all I ever seem to do is take Teams calls and chat on Slack (our staff messaging platform).
But for me, overseeing the businesses means just that – overseeing things and providing strategic, top-down direction without getting bogged down in the day-to-day detail. I spend my time on staff happiness, working on ways that we can innovate that the market doesn't expect.
I won a place on the Goldman Sachs 10,000 Small Businesses Programme at the Said Business School back in 2018. The focus of that course is on how to scale and grow businesses. The most important lesson I learnt was that I needed to work on the business and not in the business.
So I try not to get involved in the minutiae of the day-to-day stuff. I don't micro manage – I trust our teams to do all the small things well. My role is more about strategy direction, investor relations and overseeing staff as opposed to doing a job.
Describe a typical day
If I'm working in the office I'll take Woody out first and then get to the office in Slinfold. The cleaners will be in so the dog will start his day's work by chasing the hoover around the office.
Working at the office is a great opportunity to engage with the staff that are there even though everyone says hello to Woody before they say hello to me.
The working day usually starts with a Stand-up call that may be all the staff or just the sales team.
The rest of the day is then a flow of meetings with staff including the senior management team of Dec our Development Director and Nick our Director of Operations. I might be meeting with our new in-house counsel (lawyer) or suppliers. We are always trying to negotiate better deals – battling price rises to keep our price increases below inflation.
At the moment I am spending a lot of time talking to recruiters, interviewing and inducting new staff as we are currently in the process of doubling our team size.
I foster a linear, collaborative, and open culture within CareLineLive, encouraging regular communication between employees and holding weekly company meetings to allow for open discussion and idea sharing. I believe that operating in this manner will contribute to the longevity of the business, as well as foster a positive environment for customers, employees, and stakeholders.
The office is in a great location in a business park set in countryside so I'm able to take Woody for a walk in the woods at lunchtime. If we are lucky one of our neighbours will land his helicopter on the grass outside which is great entertainment for Woody.
We raised £3M in a second funding round recently. It's that money that is driving our new recruitment and product development. A big part of my job is working with our funders. I'll develop the business growth strategy but that has to be agreed with the people funding it, presenting an argument to them as to why this is the right approach. So for the three weeks before our bi-monthly board meetings I'm working closely with Chris our Finance Director on presentations, board reports on opportunities and opportunity costs. We need to think through the implications of what it costs us to develop a new feature, and what else we might not be able to do if we focus in that direction.
Funding partners hold a huge amount of power over a business. In the process of securing funding you recognise them as God. When they say 'Jump', you ask 'How high?' Now that funding is in we face exciting challenges I've personally signed warranties on various categories of expenditure so despite multiple messages when our funding announcement was made of people offering to help us spend it, we are keeping a very tight rein on investments and costs. Our funding was dependent on us signing up to ambitious targets and I am now charged with driving that forwards on both increasing sales and keeping costs under control.
What did you do before setting up CareLineLive?
I was the manager of a local audio visual shop and ran an IT business, MAS Networks, on the side. That still exists alongside CLL and some home care businesses also use the services MAS offers.
My entrepreneurial spirit was evident early on when my sister and I set up a successful publishing company at 13 and at 18 I started my own limited company, foregoing university to enter the IT solutions industry. It was this that CareLineLive was born within.
Those businesses taught me how to deal with customers and the importance of being able to explain something highly technical to someone not as interested in technical stuff as I am.
The Goldman Sachs course was what really spring boarded my potential to develop CareLineLive into the business it is today. I also made some great connections there of people and businesses that have now become suppliers and even customers.
Best part of the job
Knowing that we are helping people.
When I started the business I didn't expect it to be this big. I didn't expect to have a platform used by over 10,000 people.
Having originally built the platform around South Coast Care's use case requirement in 2012 I simply wanted to help with their admin and communications processes but I realised that there was more potential to this opportunity than first appeared. We didn't get a second customer until 2018 – that six year gap is huge in terms of the work that went in during that time on development. CareLineLive evolved from just Electronic Call Monitoring (ECM) into a fully fledged Home Care Management System.
To fund some of this gap between the first and second customer I took on a local grant for £15,000, this had to be match funded and resulted in one of the scariest loans I've ever taken – this was short term finance at an APR north of 50% with 18 month repayment terms. My journey with CareLineLive has been marked by this kind of risk taking. I used credit cards and personal loans to keep the company going during the early stages when funding was scarce and there is still finance I am personally paying back which hangs over my head as it does with every entrepreneur.
I could do the coding (though others may disagree) but I've never actually touched a line of code. Dec and I were at secondary school and college together. When I first asked Dec to do the work on our initial app I remember Dec saying "I don't want to be building care software for the rest of my life". So I went and got the investment and put Dec into that proposal, having had a chat about it but ultimatley not being 100% confident that he would come onboard full time. Thankfully he did (and you can read Dec's interview on why he loves working at CareLineLive). Part of the deal with Dec was to create the office in London. It was an early example of being flexible with people – accommodating what he was looking for.
Worst part of the job
Nowadays the hardest thing is knowing the ambitious targets we need to reach for our investors.
I'm very aware of the end goal and I know how to get there but we have a lot of hurdles to cross first. The biggest challenge at the moment is finding the right people to join the team. We don't lose people very often but as we are growing we are having to do a lot of recruitment. That's challenging because we are so choosy about the people we want to work here. We're looking for a combination of the right chemistry, attitude and commitment. It's got to be someone that we feel will fit into the team as if they have always been there.
What do you enjoy most about working at CareLineLive?
I would like to say about our staff that I hope they feel that CareLineLive is like a family. My door is always open to have a conversation and we don't put undue pressure on people. We respect work life balance and boundaries like weekends, holidays and evenings. If people have issues going on in their lives we do our best to accommodate them.
Inclusivity within an organisation is important. My experiences as a child of not being included (Josh was born with a muscle weakening disorder and had to use a wheelchair between the ages of 5 and 16) gave me personal insight into the challenges that so many people face. There are stark moments in my life when I remember doctors advising my parents that they should consider the thought that I may not be able to work, let alone hold down a full time job. Sometimes people may think I'm being soft on people. But we have a workforce where people stay with us, and in some instances return because of that focus on flexibility and accommodation.
Despite my disability, if I hadn't pushed to build my own future in the way that I have, I wouldn't have achieved what I have, and therefore I believe everybody should have that opportunity.
What is something that people in home care have to deal with that you want to help fix?
I don't feel that carers have enough time to spend with clients. I want to help release their time. That sentiment is echoed by everyone here.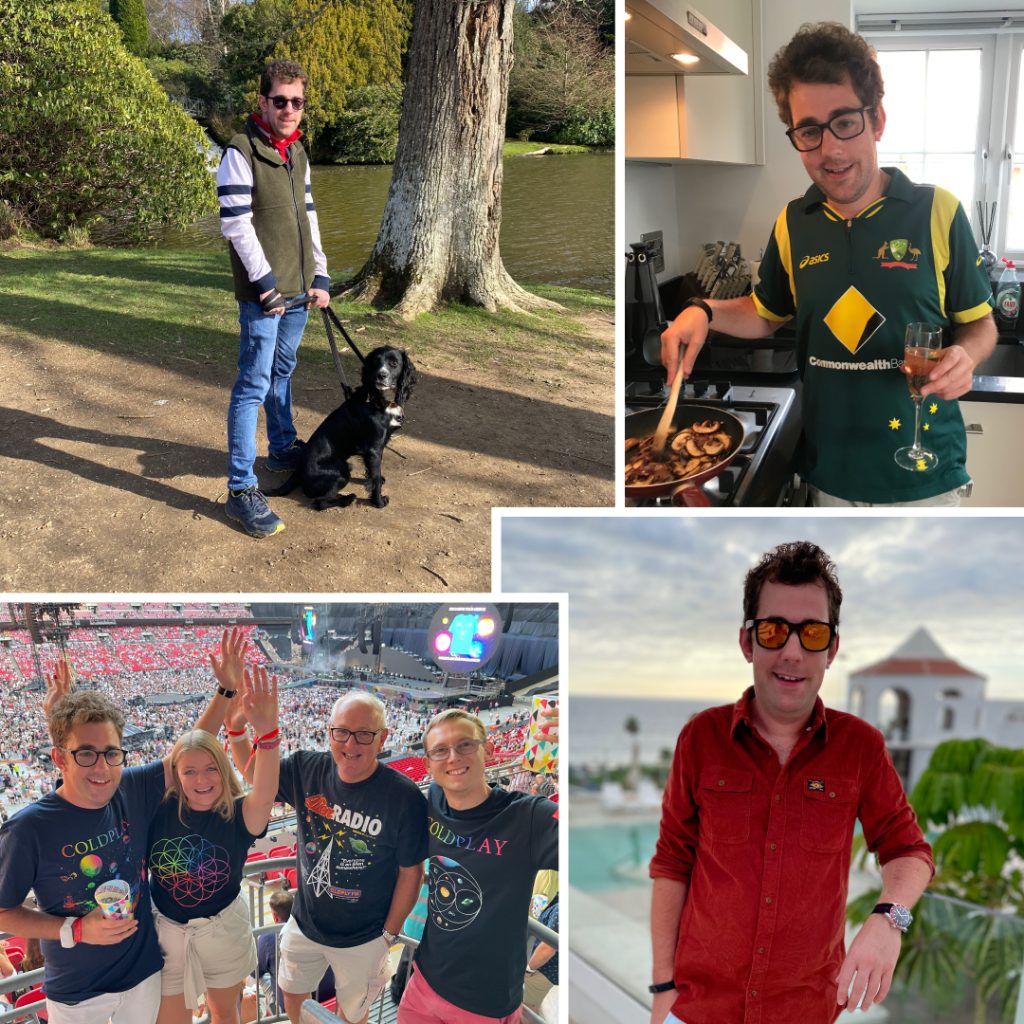 Surprising or a fun fact about you
I'm a massive petrolhead and love cars. I'm a regular at Goodwood and also learning how to not crash at the Porsche Experience Centre.
I love the countryside. Sunday for me is best spent at the local pub with a beer, a plate of chips, Woody and Amy – preferably in the sun!
I travel a lot both for work and play. And despite my young age, a fan of cruises. We used to be the youngest on the boat but the clientele are getting a little younger nowadays. The Norwegian Fjords were amazing. I'm also a regular visitor to the smaller islands in the Caribbean.